Webmyne
Systems Pvt Ltd is
looking
for Web Designer with 1 to 2 year of relevant experience.
Job Ref. ID: WM/06/2015
Technology: Web Design
No. of Openings: 02
Job Profile & Required Skills:
•Creating and developing new and unique ideas to represent an idea.
•To be fully responsible for the layout, visual appearance and usability of the company website, ensuring that brand continuity is maintained.
•The candidates are expected to demonstrate direct substantial experience in:
Languages: HTML, XHTML, JavaScript, .NET, CSS, PHP, SQL, and others
Software: Dreamweaver, Paint Shop Pro, Photoshop or Adobe Illustrator, and others
Operating Systems: Windows, UNIX, Macintosh, and others
Browsers: Internet Explorer, Firefox, Safari, Chrome, and others
•Mapping and outlining website's structural content
•Creating and editing images and graphics for website use
•Ability to Hand Code with HTML Strong knowledge of Dreamweaver, Photoshop, JavaScript and Flash. An Art, Design or Media based Honour's Degree In depth knowledge of current web-design trends and techniques. A flexible attitude with proven experience of working in a small team
•Determining all coding requirements for site improvements
•Creating templates of approved website layout
•Coding website using HTML, GUI, or other appropriate web design tools
•Posting completed website to Internet server
•Web pages should be accessible and functional for use by all levels of the external audience on all types of
systems
, including older personal and Macintosh computers
Salary: No bar for right candidate plus (Incentive +Bonus)
And Best Working Environment for Employees
Location:
Vadodara.
.
Please mail resume to hr@webmyne.com
Ph.no: 0265-2336907,
Mo no: 9725452141
Write review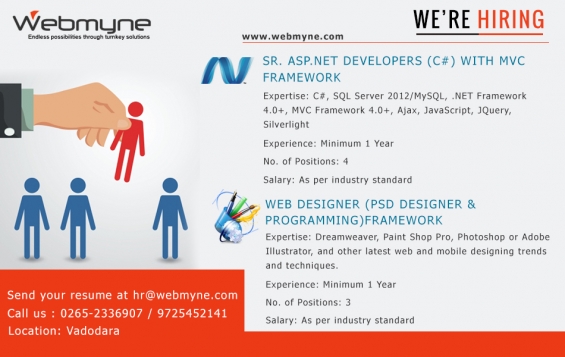 Webmyne systems pvt ltd is looking for web designer with 1 to 2 year of relevant experienc
Write review
Leave your comments on this ad
Offensive messages and spam will be removed